HPSO & the Garden Conservancy Open Day Tour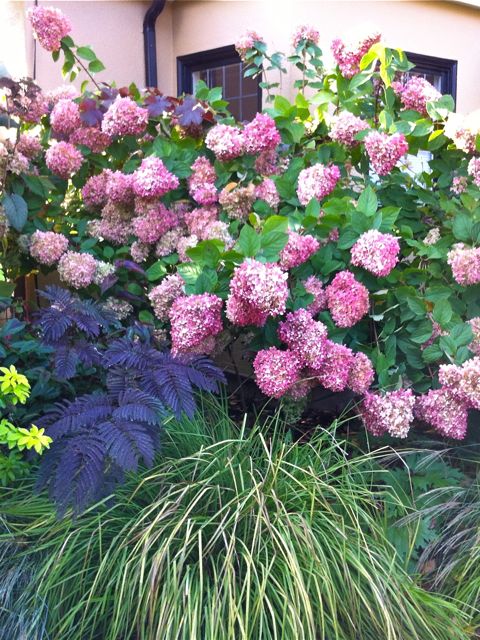 Each year since the 1990s, HPSO has teamed up with the Garden Conservancy to provide a fabulous one-day tour of private open gardens. Proceeds for the tour are split between the two organizations; HPSO's proceeds go towards the Elaine Joines Grants Program and the HPSO horticultural scholarship fund. The tour is completely organized and staffed by volunteers. The location of the tour varies each year, typically to a different part of the greater Portland metropolitan area.
2014 Tour

The theme of the tour for 2014 is "Within the City Limits: Minimum Space - Maximum Results". The tour will be in the north and northeast neighborhoods of Portland. Six beautiful gardens are featured:
The Beeman House Garden (Kevin Dean & Jeff Chaidez) - lead garden (7240 N Fowler Avenue, Portland)


The Ferrante Garden (Jenn Ferrante,

1825 N Jarrett Street, Portland)
Manzanita Garden (Marina Wynton & Mike Pajunas, 3121 N Arlington Place, Portland)

The Outdoor Living Room Garden (Renee & Paul Giroux, 2834 NE 25th Avenue, Portland)

The Melody Garden (Renee Melody, 2570 NE 32nd Avenue, Portland)

The Urban Garden (Mason Brown & Christina Bonda-Riva, 3222 NE 48th Avenue, Portland)

You will have the opportunity to purchase raffle tickets for fabulous garden art at several gardens. Raffle proceeds will benefit the HPSO grants program directly.
The tour will occur on Saturday, June 28, 2014 from 10am to 4pm.
Entry is $5 per person per garden on the day of the event. You can purchase tickets "by the book" and get 6 tickets for $25, which is a savings of $5. Tickets have no expiration date and can be used at any Garden Conservancy open garden anywhere in the United States. Tickets can be purchased at the entrance to each garden.
Download tour directions: Cycling Directions (written) | Cycling Map | Driving Directions (written) | Driving Map
This year's garden details: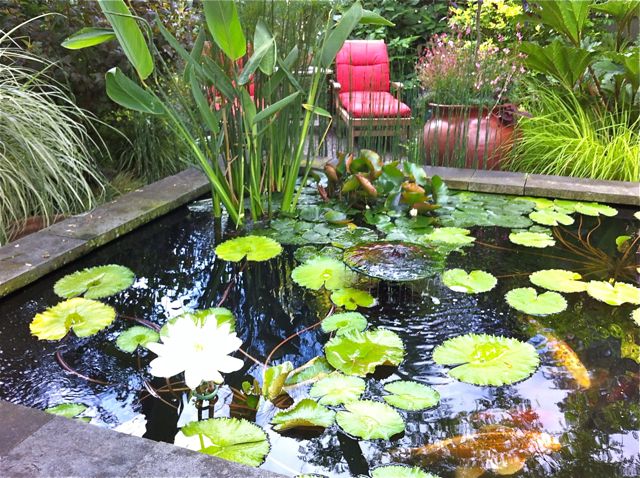 Beeman House Garden: We were drawn to our 1927 Mock's Crest home by the double city lot and charm of our elm-lined street, but as everyone who lives with large trees knows, the shade they provide can create challenges and limitations in the garden. Kevin added to the problem early on by indulging his tree planting obsession! So...in hopes of creating more light and a healthier garden, we began the process of editing some of the trees and plantings that had outgrown their spaces, including a bamboo glade that was threatening to burst its barrier and take over. This created some opportunities for "redecorating" several of the outdoor "rooms", which we have been happily doing over the past two years. Our garden is more about interesting foliage shapes and colors than producing food or flowers. Giant plants that look like they could eat you and a dramatic color palette of bright chartreuse, purples, maroons and even a bit of black keep us entertained. The backyard Koi pond and two bee houses keep us busy. Always a work in progress.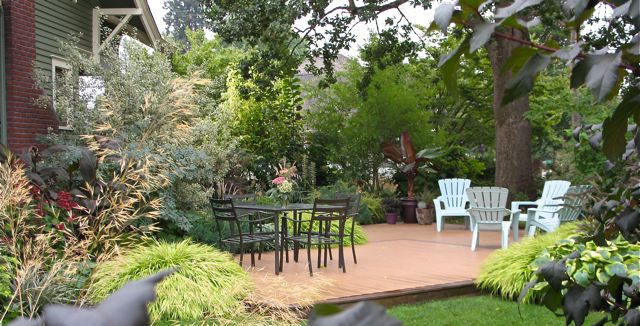 Ferrante Garden: A wonderful large corner lot is home to a seven-year-old garden filled with luscious plants and quirky art. Foliage rules here, with featured areas of both shade and sun plants. I have a definite color scheme, focusing on black, chartreuse and burgundy. No pastels in this garden! Gravel hell strips frame both sides of the garden, containing plants that thrive with little water. The west-side garden is a lovely respite containing an angled deck that puts you right in the middle of all the plantings.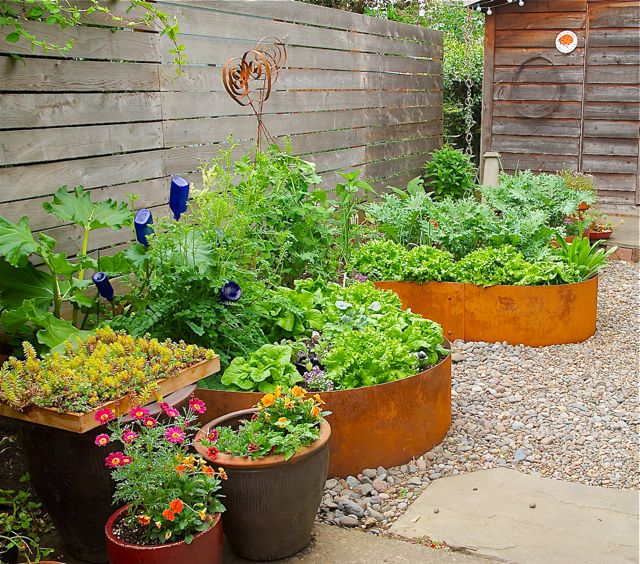 Manzanita Garden: Our gardens are a reflection of our deep appreciation for nature, art and home. We started designing and building the gardens together seven years ago, early in our relationship and they are a true collaboration. We have native hedge rows as well as mixed planting beds of native and non-natives, an eco-roof on the tool/garden shed, a rain garden, pollinator pathway plantings in the parking strip, permeable pathways, sculpture, vertical gardens, curvy steel-edged vegetable beds, a guest house and outdoor rooms all on a smaller than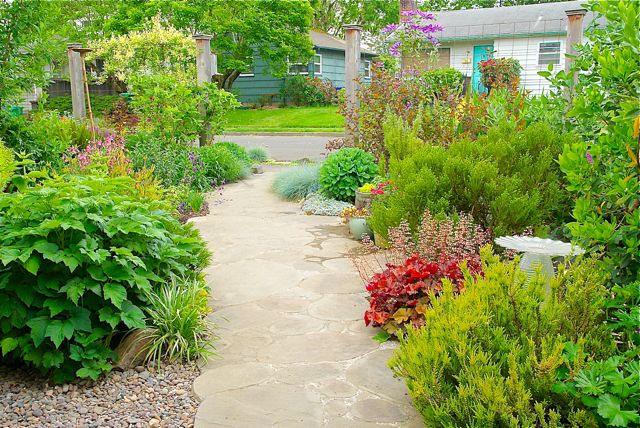 average city lot. The gardens are designed to please us and our neighbors, create habitat to attract insects and birds and have living spaces that are enjoyed all year round. We're constantly tinkering with the planting beds, seeking ways to get more winter structure and color, how to fit in a few more perennials and edibles and always with an eye out for that just-right piece of art work for a certain spot. The mason bee box is in the wrong place...compost is on the way...
We're finding that just when we think we're done, we each get new ideas that keep us refining and creating.

The Outdoor Living Room Garden: We moved from 11⁄2 acres to our current home on a 100'x50' lot in July, 2005 and got right to work using our combined talents of Master Gardener and engineer. Everything in the front was removed to make room for our crafted Cabinet Gorge Ledgestone wall and blue flagstone piazza patio. A large custom trellis was designed and built over the patio to hold a variety of climbing vines. A recycled stone walking path was built around two 'Raywood' ash planted in the parking strip An espaliered 'Stella' fig is planted on the south side along with vegetable and peony garden beds. The highlight of the intimate back yard design is a stained glass garden shed.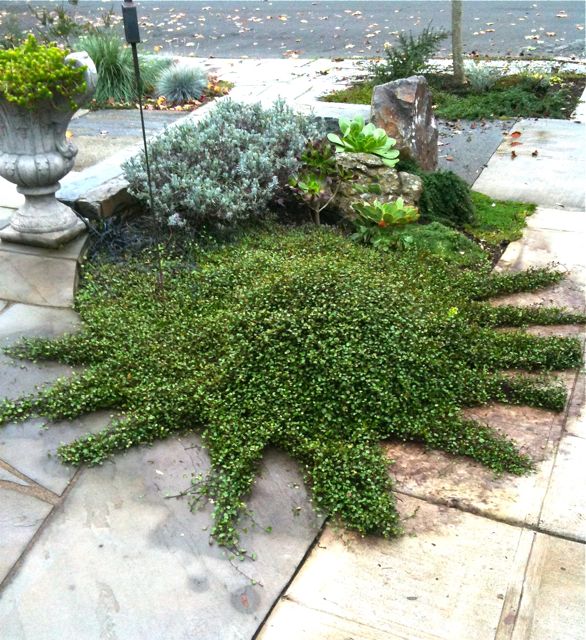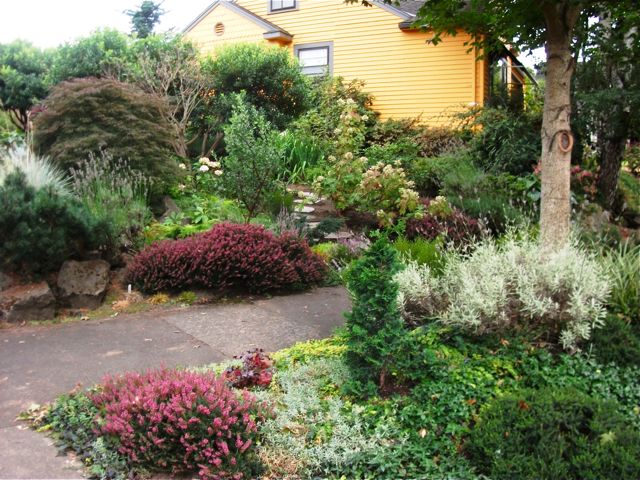 Melody Garden: My garden was born eight years ago, when Michael Schuster of Orient Drive Landscaping transformed a bleak weed-scape into a place of year-round interest with contouring and naturalistic planting and rockwork. The front now provides screening from the street. In back there are flower beds and a fish pond, set off by the lawn. I have fun modifying and adding to my yard with on-going experiments. It is now my own little world which I enjoy sharing with other garden geeks.
The Urban Garden: The Urban Garden, with its wandering walkways, blends elements of texture and color for every season. Tight, purposeful plantings use the space well, bringing visitors enjoyment and offering a year-round outdoor living area. Despite its small size it is home to a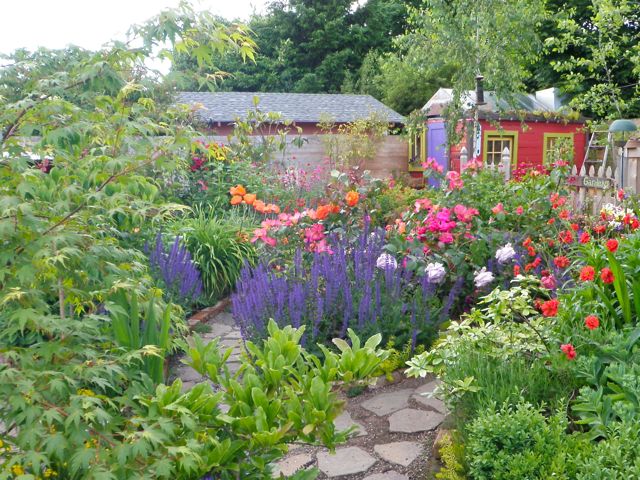 diverse plant collection including conifers, evergreen shrubs and many perennials. The garden maximizes outdoor space with a colorful work shed and awnings and various sitting areas that allow for enjoyment of the different layers and heights of its beds. Bird watchers will love how wildlife observation is incorporated into the garden from different vantage points..
Extensive details about each of these gardens will be available in the HPSO Quarterly, Summer Issue.