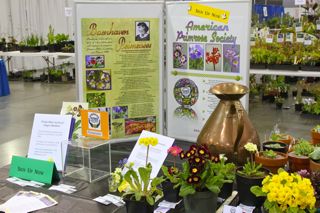 April 15th & 16th, 2017
Saturday and Sunday, 10am - 3pm

EXPO Center, 2060 N. Marine Dr, Portland, OR. Directions.

FREE admission. Parking is $8 (charged by the City of Portland). Please: no strollers, wagons or pets. Assistance will be provided for shoppers with disabilities. Please contact the HPSO office in advance for arrangements.

Now accepting applications for nurseries and artists:
Nursery application For more info on how to participate as a nursery, please contact Bruce Wakefield.
Garden artist application For more info on how to participate as a garden artist, please contact Jeannie Beckman.
Volunteer registration is now open! Click here: 2017 Hortlandia Volunteer Registration

Last year's Hortlandia participants:

A Glass Act

Adamkaysart

Albe Rustic Furniture

Alena Botanica

A Potter's Garden

Arbutus Garden Arts

A Rustic Garden

Batty Bats

Bent Productions

Bird's English Garden & Nursery

Blooming Junction

Bonsai Akira

Brothers Peonies

Byrkit

Carni Flora Pdx

Cedarglen Floral Company

Cistus Design Nursery

Columbia-Willamette Rock Garden Society

Dancing Oaks Nursery

Deezines

Double Happiness Crane Company

Eastfork Nursery

Eclectic Gardens

Edelweiss Perennials

Elizabeth See

Elk Mountain Cedar

EMSWCD-Naturescaping

Fancy Fronds

Far Reaches Farm

Flat Creek Garden Center

French Prairie Perennials

Friends of the Rogerson Clematis Collection

Frog Eyes Wasabi

Garden Art by James

Garden Design Magazine

Garden Thyme Nursery

Gary Bodker Glass

Gibson Pottery

Gossler Farms Nursery

Greater Portland Iris Society

Greenware Pottery

Harvest Nursery

Highland Heather

Humble Roots Farm & Nursery

Image Custom Ironwork

Indio Metal Art

Jockey Hill Nursery

Joy Creek Nursery

Keeping It Green Nursery

Marriah House Studio

Mary's Garden

Metal-Morphosis

Miller's Manor Gardens

N & M Herb Nursery

Nowlens Bridge Perennials

Oh-Growup

Old House Dahlias

Oregon Palm Nursery

Our Little Farm & Nursery

Out in the Garden Nursery

Pan's Garden

Patchwork Farm & Nursery

Pearson Nursery

Petal Heads

PGE's Green Power Oregon

Pomarius Nursery

Rare Plant Research

Red's Rhodies

Rhododendron Species Botanical Garden

Rita Lees Nursery

River Rock Nursery

Robyn's Nest Nursery

Sage Designs

Sayrendipity Studios

Sebright Gardens

Secret Garden Growers, LLC

Sedum Chicks

Sekao Bonsai

Simply Sine

Steelhead Metalworks

Swarm Portland

Terry Powers Recycled Metal Art

The Desert Northwest

The Greenhouse Catalog

The Lily Garden

The Lily Pad

The Oregonian / Oregon Live

The Rustic Garden

The Tropics

Three Sisters Nursery

Van Hevelingen Herb Nursery

Whispering Springs

Wild Ginger Farm

Windcliff Plants

Wire Art by C & C

Woodland Way Nursery

Xera Plants, Inc

For more information about HPSO's Hortlandia, please visit the Plant & Art Sales page.

HPSO is proud to have The Oregonian as our media sponsor!