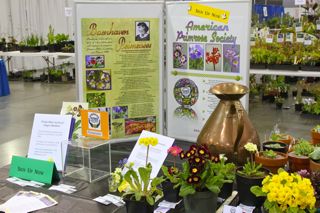 April 15th & 16th, 2017
Saturday and Sunday, 10am - 3pm

EXPO Center, 2060 N. Marine Dr, Portland, OR. Directions.

FREE admission. Parking is $8 (charged by the City of Portland). Please: no strollers, wagons or pets. Assistance will be provided for shoppers with disabilities. Please contact the HPSO office in advance for arrangements.

Volunteer registration is now open! Click here: 2017 Hortlandia Volunteer Registration

A room map (only) is now available here. Check back for updates in case it changes!

Or, click here for a flyer, which includes a room map and cross reference list!
This year's Hortlandia participants:

A Potter's Garden

Adamkaysart

Albe Rustic Furniture

Alena Botanica

American Bamboo Society

American Conifer Society

Arbutus Garden Arts

Artisan Airplants


Bird's English Garden & Nursery

Blooming Junction

Bonsai Akira

Brothers Peonies

Byrkit

Carni Flora Pdx

Cedarglen Floral Company

Christian Gabriel Art

Cistus Design Nursery

Columbia-Willamette Rock Garden Society

Concentrates, Inc

Contained Exuberance/Bob Hyland Design

Dancing Oaks Nursery

Deezines

Double Happiness Crane Company

Eastfork Nursery

Edible Portland


Edelweiss Perennials

Erlee's Garden


Fancy Fronds

Far Reaches Farm

Flat Creek Garden Center

French Prairie Perennials

Frog Eyes Wasabi

Garden Art by James

Garden Thyme Nursery

Garden Whimsies Birdbaths & Art


Gibson Pottery

Gossler Farms Nursery

Great Plant Picks

Greater Portland Iris Society

Greenware Pottery

Highland Heather

Humble Roots Farm & Nursery

Jockey Hill Nursery

Joy Creek Nursery

Keeping It Green Nursery

Marriah House Studio

Mary's Garden

Miller's Manor Gardens

N & M Herb Nursery

Nice Nests

Nowlens Bridge Perennials

Oh-Growup

One Green World


Oregon Daffodil Society

Oregon Live / The Oregonian

Oregon Palm Nursery

Our Little Farm & Nursery

Out in the Garden Nursery

Pan's Garden

Pearson Nursery

Petal Heads

PGE's Green Power Oregon

Rare Plant Research

Red's Rhodies

Rita Lees Nursery

River Rock Nursery

Rogerson Clematis Garden

Sage Designs

Sayrendipity Studios

Sebright Gardens

Secret Garden Growers, LLC

Sedum Chicks

Shady Companions

St Johns Heirloom & Plant Co.

Steelhead Metalworks

Swarm Portland

Terry Powers Recycled Metal Art

The Lily Garden

The Oregonian / Oregon Live

The Rustic Garden

Three Sisters Nursery

Van Hevelingen Herb Nursery

Wild Ginger Farm

Windcliff Plants

Wire Art by C & C

Woodland Way Nursery

Xera Plants, Inc

For more information about HPSO's Hortlandia, please visit the Plant & Art Sales page.

HPSO is proud to have The Oregonian as our media sponsor!